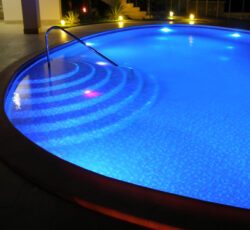 In the world of pool equipment, Jandy stands out as a brand that consistently delivers innovation and quality. They have a range of products that enhance the beauty and functionality of your backyard oasis. One such product that deserves our attention is the Jandy Pro Series WaterColors LED color pool and spa lights. These lights not only illuminate your pool and spa but also transform your outdoor space into a mesmerizing wonderland of colors. In this blog post, we will delve into the details of these lights and explore how they can elevate your pool experience.
A Spectrum of Colors
The Jandy Pro Series WaterColors LED lights are not your ordinary pool lights. They bring a rich palette of colors to your backyard paradise, allowing you to create a truly unique atmosphere. These LED lights operate with remarkable energy efficiency, using less than 50 watts of power. In fact, they can reduce energy expenses by up to 90% compared to traditional incandescent lights. So, not only do they add beauty to your pool area, but they also contribute to sustainability and cost savings.
Endless Colorful Displays
Whether you're taking a dip in the pool or simply enjoying the night by the water, the Jandy WaterColors lights provide an endless display of brilliant, beautiful colors. No longer are you limited to the basic primary colors. With Jandy's custom color palette generator, you have a world of possibilities at your disposal. Whether it's a deep, passionate red, a tranquil shade of blue, a vibrant coral, or an eye-catching chartreuse, the Infinite WaterColors™ Lights offer you an array of shades to choose from.
Diverse Lighting Options
Jandy understands that variety is the spice of life. That's why their LED lights come with not just 10 traditional pre-set colors but also five dazzling light shows. You have the flexibility to choose from different modes, be it a calm and serene ambiance or a dynamic and festive display. These lights are designed to adapt to your mood and preferences, making your pool experience more enjoyable and tailored to your liking.
Niche vs. Nicheless Lights
One important aspect to consider when installing pool lights is the choice between "niche" and "nicheless" lights. The term "niche" refers to the pool light housing. Niche lights are typically larger in size and require advanced planning for placement during the rebar installation phase of your pool. On the other hand, "nicheless" lights are smaller and don't require a niche or any special accommodation with the rebar.
You can effectively light most swimming pool designs with either one or two niched pool lights. Alternatively, you can opt for multiple nicheless lights with little to no difference in energy consumption. The advantage of nicheless lights is that they provide more even light distribution, making them an excellent choice for achieving a balanced and aesthetic lighting effect.
Versatility of Nicheless Lights
Nicheless lights, due to their smaller size and flexibility, offer greater versatility for more elaborate pool designs. They can be installed in various locations, such as shallow sun shelves, narrow walls, under pedestals, or even vertically in grottos and negative edge basins. This versatility means that your pool's lighting design isn't confined to the pool's main body. Instead, you can get creative with the placement of lights to accentuate specific architectural features and create stunning visual effects.
LED Technology: The Preferred Choice
In the past, traditional incandescent lights were the norm for pool lighting. However, LED pool lights have emerged as the preferred technology, and for good reason. They are known for their durability, excellent performance, and remarkable energy efficiency. LED lights not only last longer, reducing the hassle of frequent replacements, but they also consume significantly less power. This shift towards LED technology has not only enhanced the aesthetics of pool lighting but also helped pool owners save on energy costs in the long run.
Conclusion
Jandy's Pro Series WaterColors LED color pool and spa lights have redefined the art of pool illumination. They offer a wide range of colors, diverse lighting options, and flexibility in installation, making them a top choice for pool owners who want to enhance their outdoor living space. With these lights, you can transform your pool area into a captivating and sustainable oasis, where the beauty of the water is matched only by the vibrant, mesmerizing colors that surround it. Whether you're taking a midnight swim or hosting a poolside soirée, Jandy's WaterColors LED lights will help you create unforgettable moments in your own backyard paradise. So, if you're looking to elevate your pool experience and add a touch of magic to your outdoor space, consider giving Jandy a closer look.
Got Questions? Let Us Help!
Since 1999, Avanti Pools, Inc. has proudly been your locally owned and operated source for premier custom-designed pools and spas, serving Los Angeles and the surrounding areas with unparalleled quality and service. The experts at Avanti Pools, Inc. are A.P.S.I. certified professional pool builders that hold over 60 years of combined experience specializing in swimming pool and spa design and construction, automatic pool and spa covers, solar heating, self-cleaning pools, and much more. Our area of expertise lies in special engineering on difficult sites, so we are capable and fully equipped to handle even the most challenging of projects. Call the expert pool builders at Avanti Pools, Inc. today!